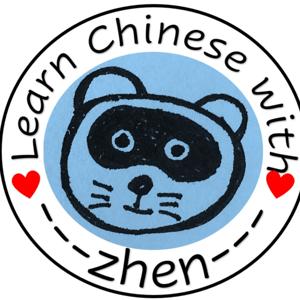 Learn Chinese with Zhen
By Zhen
What's Learn Chinese with Zhen about?
***NEW EPISODES USUALLY BY MONDAY EACH WEEK***
Join us on a journey to master Chinese (Mandarin to be exact)! Great for beginners with NO background in speaking and writing the language. As a bilingual English-Mandarin speaker, I have had tons of requests from friends interested in learning Chinese, especially after moving to the States for school. I am kind of tired of repeating myself and definitely can't clone myself so this is dedicated to them, and to you, my new friend! I will try to teach it in a fun, effective, engaging, meaningful and practical way. as I would for a friend. I have tried picking up new languages as an adult and instead of being polished and professional, I prefer to be engaging and bring the language alive - hopefully this would sustain your interest in learning, and my interest in teaching.
Language learning comprises of listening, speaking, writing and reading. Each episode is a bite-sized chunk you can listen to, and speak along with me, with a companion PDF handout on my website (https://learningchinesewithz.blogspot.com/) that you can practice writing and reading the key vocabulary words from the episode. You can choose to print the handout out or open it using an app on any mobile device. I encourage you to work on the handout as you go through the podcast, and repeat either/both as often as you must. I feel that taken together they will reinforce your learning and help you connect the dots and make sense of a living, evolving language.
Just a note, I am a Chinese Singaporean, and grew up mostly speaking English (or Singlish), with Chinese/Mandarin as my mother tongue. There are many Chinese dialects, with Mandarin being one, and there are even more accents whether within China itself, or in places like Singapore or Taiwan. What I will be teaching then will be my version of Mandarin and the simplified Chinese script of writing. Should you meet any native speaker and muster the courage to speak to them in Mandarin, they will be super impressed (I would) regardless of your proficiency. But should they ask where you learn it from, say - "I picked up the language from listening to some podcast by a cool chick from Singapore." They will be even more impressed and forgiving if you slip up. #igotyourback
Any feedback, suggestion, or compliment is welcomed as we embark on this journey together :) And should you wish to support my work (no obligation at all because we are friends after all), feel free to buy me coffee here: https://www.buymeacoffee.com/OUxsneWtc Thank you, and I look forward to learning and growing with you!