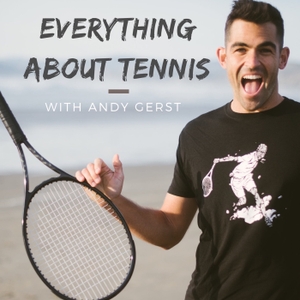 Lessons Learned As A Tennis Parent With Wade Murphy And A Big Announcement! (Ep. 39)
05.07.2019 - By Everything About Tennis
We can take hundreds of hours of lessons on how to improve our games, perfect our strokes and learn tennis strategy. But you can't take lessons for something that's infinitely harder...being a tennis parent! In today's episode we tackle that topic and more with a good friend Wade Murphy as he shares his personal story and the lessons he learned raising his son Sean, taking him through the obstacle course and arduous journey (for both child and parent) that is junior tennis.
There's tons of great insight in this episode not only for parents but for players and coaches too. We talk about how Wade re-committed himself to the game and became an excellent club player in his adult life, his observations on how judgmental the tennis world is and what the role should be for the support team of a player. Lastly, we discuss college tennis and how to find the perfect fit for an aspiring high school player.
-------
Follow me on Instagram (https://www.instagram.com/andygerst10s) to stay up to date on new podcast episodes or be sure to SUBSCRIBE on Soundcloud, iTunes and Stitcher!
Also, be sure to check out Cadence Insoles and the new Spring 2019 collection from Adidas Tennis via the links below:
adidas Men's Spring MatchCode 9" Short:
http://bit.ly/adiSpringMatchCodeShort
Cadence Insoles:
http://bit.ly/CadenceInsoles
adidas SoleCourt Boost Parley:
http://bit.ly/adiSoleBoostParley
adidas adizero Ubersonic 3 Parley:
http://bit.ly/adiUber3Parley
adidas Men's Spring Parley Polo:
http://bit.ly/adiParleyPolo
adidas Men's Spring Parley 9" Short:
http://bit.ly/adiParleyShort
adidas Men's Spring Parley Pocket T-Shirt:
http://bit.ly/adiParleyPocketTee