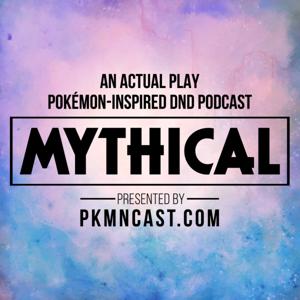 Mythical: Pokémon-Inspired DnD Role Playing Podcast
By PKMNcast.com
What's Mythical: Pokémon-Inspired DnD Role Playing Podcast about?
Mythical is an actual play Pokémon-inspired Dungeons & Dragons podcast! It is broken down into smaller seasons where new listeners can pick up quickly, but older audiences can still feel invested in the creation of our worlds.
Seasons 1 and 3 were streamed live on twitch.tv/pkmncast, and this is the audio version of our episodes. Season 2 was recorded at 2016 Gen Con. Seasons 4 and 5 were recorded locally with the crew.
It's important to note that each Season is self-contained and you do NOT need to listen to Season 1 to enjoy later Seasons.
Mythical is presented to you by PKMNcast.com and the people who create "It's Super Effective."