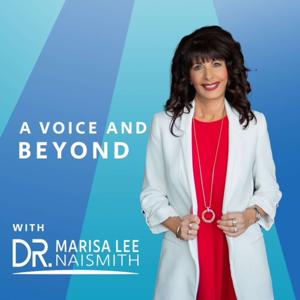 #33. Performance Anxiety: More Than Just Sweaty Palms with Sarah Marshall
10.17.2021 - By A Voice and Beyond
Today's guest is Sarah Marshall
Performance anxiety has been described as fear about one's ability to perform a specific task, usually in front of a group for people. Sarah Marshall describes performance anxiety as those random intrusive thoughts that flood our brain prior to and during a performance. Sarah Marshallis a singing teacher, examiner and adjudicator with degrees in music performance, psychology and counselling. She uses her performance experience and psychology training to work with performers and educators to assist with managing performance anxiety and helping them to learn cognitive skills they can pass on to others. Sarah reveals that she herself was crippled with performance anxiety, and this along with a family illness inspired her to enter into her private counselling practice, and to develop a performing artists' educator's course which helps teachers create an environment that can reduce performance anxiety. Performance anxiety can be a result of many things such as past trauma or perfectionism. However, what she has found is that everyone is unique and their experiences, symptoms and methods for overcoming performance anxiety are also different. Sarah draws together strategies from a range of fields including performance psychology research and performance practice of elite athletes and performers, that allows them to successfully maintain peak performance. She shares with us how we as voice teachers can help our students navigate stressful circumstances to manage performance anxiety. There is so much information packed into this interview with Sarah Marshall.
In this episode 01:08 - Introduction 09:16 - Getting to know Sarah Marshall 21:06 - What is Performance Anxiety? 26:14 - Main factors triggering Performance Anxiety 36:07 - Main reasons clients approach Sarah for help 44:40 - A role play performer scenario for perspective  57:39 - A Performance Anxiety story from Dr Marisa Lee Naismith 1:06:29 - Supporting students suffering from performance anxiety
For more go to https://drmarisaleenaismith.com/33
Like this episode? Please leave a review here - even one sentence helps!
Follow me on Instagram. Performance Mastery Coaching - Take Centre Stage In Your Life!!
Visit www.drmarisaleenaismith.com/coaching to learn more.