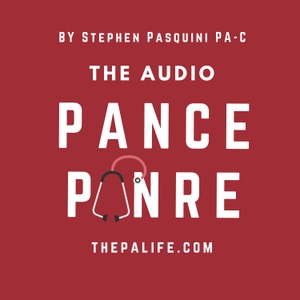 The Audio PANCE and PANRE Physician Assistant Board Review Podcast
Welcome to episode 73 of the Audio PANCE and PANRE PA Board Review Podcast.
Join me as I cover ten PANCE and PANRE Board review questions from the SMARTYPANCE course content following the NCCPA™ content blueprint (download the FREE cheat sheet).
This week we will be covering ten general board review questions based on the NCCPA PANCE and PANRE Content Blueprints. 
Below you will find an interactive exam to complement the podcast.
I hope you enjoy this free audio component to the examination portion of this site. The full board review includes over 2,000 interactive board review questions and is available to all members of the PANCE and PANRE Academy and Smarty PANCE.
* You can download and listen to past FREE episodes here, on iTunes, on Google Play Music or Stitcher Radio.* You can listen to the latest episode, take an interactive quiz and download your results below.
Listen Carefully Then Take The Practice Exam
If you can't see the audio player click here to listen to the full episode.
Podcast Episode 73: Ten Question PANCE and PANRE Podcast Quiz
The following questions are linked to NCCPA Content Blueprint lessons from the Smarty PANCE and PANRE Board Review Website. If you are a member you will be able to log in and view this interactive video lesson.
1. A 45-year obese female (BMI=36.7 ) presents to your clinic with a random serum glucose level of 242.  You diagnose the patient with type II diabetes and place her on metformin 500 mg twice daily and ask that she check her glucose first thing in the morning and again late at night. The patient states that her glucose first thing in the morning is 424 and by the evening it is 96.  Which of the following tests would you like to order to confirm your diagnosis?
* ACTH level* HgA1C* 24 collection of VMA* Dexamethasone suppression test* Cortisol levels
2. A 49-year-old male is admitted to the hospital with a diagnosis of pneumonia. He has had a cough and fever up to 101.