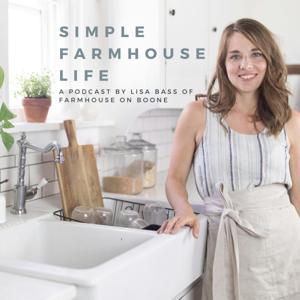 120. Raising Hardworking Kids | Jill Winger of The Prairie Homestead
02.14.2022 - By Simple Farmhouse Life
I don't often discuss parenting on this podcast, but when I read Jill Winger's blog post on how she gets her kids involved on her homestead, I knew I had to bring her on to talk about this topic.  Jill began homesteading before she became a mother, so her three children have always known this way of life.  Jill and I discuss how we accomplish homesteading tasks with babies and toddlers underfoot, how we begin getting our children involved around the homestead, and why it's important to give our children the gift of hard work.  If you want to instill the values of hard work and creativity into your children, may this episode give you inspiration along the way.
In this episode, we cover:
An old-fashioned philosophy of parenting
How kids of different ages can help around a homestead
Instilling a strong work ethic in your children
How homeschooling can build character
Making space for kids to explore their passions
The advantage of letting our kids experience failure
How we approach chores
Click here to listen to part one of this conversation on Jill's podcast or click here to watch on YouTube.
GUEST BIOGRAPHY
Jill is the founder of The Prairie Homestead, an online space with over one million monthly visits dedicated to helping people learn how to grow their own food and opt out of the rat race, regardless of where they live. In 2019, she published her best-selling cookbook The Prairie Homestead Cookbook which was an Amazon Editor's pick and won Best Cookbook in the 30th Annual Reading the West Book Awards given by the Mountains and Plains Independent Booksellers Association.
Her practical and authentic style of teaching and storytelling has won the hearts of hundreds of thousands of homesteaders across social media and through the Old Fashioned on Purpose podcast, which has amassed over 3.3 million downloads since its inception.
CONNECT
Jill Winger of The Prairie Homestead | Website | Instagram | YouTube | Facebook | Pinterest
Lisa Bass of Farmhouse on Boone | Blog | YouTube | Instagram | TikTok | Facebook | Pinterest
MORE FROM THIS EPISODE
Watch this episode on YouTube.
View show notes and transcript on the blog.