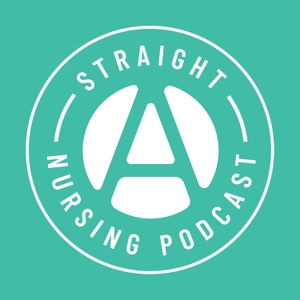 Haloperidol (Haldol) is a traditional antipsychotic with some very distinct guidelines that could show up on your next exam or with your next combative, delirious patient. 
In this podcast episode, I'll talk you through:
* What Haldol is used for in the clinical setting* The multiple ways Haldol can be given (and how we're going to give it for acute agitation in the hospital)* THE most important thing you need to know before you give Haldol and what to monitor afterwards.* The very dangerous thing that could happen to your patient with Haldol administration* Monitoring parameters* Common side effects of Haldol
Plus, I'm sharing a sneak peak into my Pharmacology course and an acronym that can help you focus your studying when learning new medications. 
Want to learn more about the QT interval? (https://www.straightanursingstudent.com/qt-interval/)
Want to see how I remember drug side effects? (https://www.straightanursingstudent.com/psychopharmacology-podcast/)
Want to "bulletproof" your medication administration? (https://straightanursing.ck.page/fc69f2501b)
Looking for your new BFFs? Join the Thriving Nursing Students Facebook group! (https://www.facebook.com/groups/thrivingnursingstudents/)
Episode notes here: (https://www.straightanursingstudent.com/haldol/)