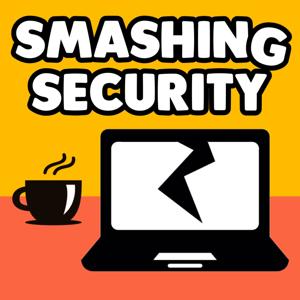 Smashing Security
By Graham Cluley & Carole Theriault
What's Smashing Security about?
A helpful and hilarious take on the week's tech SNAFUs.
Computer security industry veterans Graham Cluley and Carole Theriault chat with guests about cybercrime, hacking, and online privacy. It's not your typical cybersecurity podcast...
Winner of the "Best Cybersecurity Podcast" in 2018, 2019, and 2023, and the "Most Entertaining" in 2022 and 2023, Smashing Security has had over nine million downloads. Past guests include Garry Kasparov, Mikko Hyppönen, and Rory Cellan-Jones.
Follow the podcast on Twitter at @smashinsecurity, and subscribe for free in your favourite podcast app. New episodes released at 7pm EST every Wednesday (midnight UK).