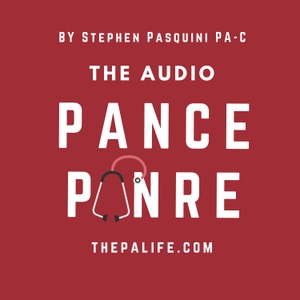 Ten Mixed NCCPA™ PANCE Content Blueprint Multiple Choice Questions
Welcome to episode 63 of the FREE Audio PANCE and PANRE Physician Assistant Board Review Podcast.
Join me as I cover ten PANCE and PANRE Board review questions from the SMARTYPANCE course content following the NCCPA™ content blueprint (download the FREE cheat sheet).
This week we will be covering ten general board review questions based on the NCCPA PANCE and PANRE Content Blueprint. 
Below you will find an interactive exam to complement the podcast.
I hope you enjoy this free audio component to the examination portion of this site. The full board review includes over 2,000 interactive board review questions and is available to all members of the PANCE and PANRE Academy and SMARTYPANCE which are now bundled together into one very low price.
* You can download and listen to past FREE episodes here, on iTunes, on Google Play Music or Stitcher Radio.
* You can listen to the latest episode, take an interactive quiz and download your results below.
Listen Carefully Then Take The Practice Exam
If you can't see the audio player click here to listen to the full episode.
Episode 63 – General PANCE/PANRE Podcast Quiz
The following 10 questions are linked to NCCPA Content Blueprint lessons from the SMARTYPANCE and PANRE Board review website. If you are a member you will be able to log in and view this interactive video content.
1. A 24-year-old male presents complaining of a 9-month history of increasing shortness of breath, dyspnea on exertion, and a cough productive of white sputum, mostly in the mornings. He denies orthopnea, PND, peripheral edema, fever, chills, night sweats, recent changes in weight, palpitations, chest pain, food intolerances, or other complaints. Patient has a history of recurrent lung infections. He states that his father had chronic pulmonary problems and died at age 42 from unknown lung disease. The patient denies smoking, alcohol or illicit drug use. On physical examination, the respiratory rate is 22 breaths per minute, a pulse of 98 bpm, a temperature of 98.7 degrees. Pulmonary exam reveals end-expiratory wheezes bilaterally and hyperresonance to percussion.