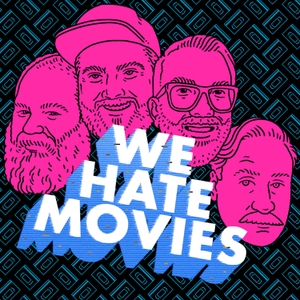 On this week's episode, our unofficial Sean-Gone month comes to an end with a discussion about the totally baffling shit-show, 1998's The Avengers! How on Earth did Warner Brothers allow this to be released as-is? Have two lead actors ever had less chemistry than Uma and Ralph? And what is the value of not having Eddie Izzard speak for the whole film? PLUS: If Jim Broadbent appeared in a snuff film... better movie?
The Avengers stars Ralph Fiennes, Uma Thurman, Sean Connery, Jim Broadbent, Fiona Shaw, and Eddie Izzard; directed by Jeremiah Chechik.
Check out WHM at FRQNCY in June!
Catch WHM on tour this fall, hopefully!
WHM Merch Store
Advertise on We Hate Movies via Gumball.fm
Unlock Exclusive Content!: http://www.patreon.com/wehatemovies
See omnystudio.com/listener for privacy information.