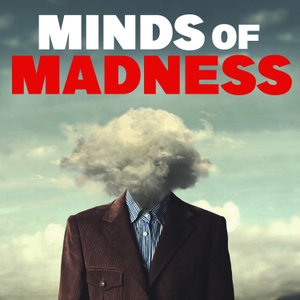 Chris Benoit was an international superstar, an elite athlete, and one of the most inspiring performers in the world of professional wrestling. However, following a weekend in June 2007, Chris Benoit's reputation as a hero was stripped away, leaving behind a much more sinister legacy.  
Music Credits:
The Minds Of Madness Theme Music – Duncan Foster
The Funkoars – Feel The Madness
Used with Permission - http://goldenerarecords.com.au/ge/funkoars/
Please check out this episodes sponsors and help support our podcast:
THIRD LOVE: Go to THIRDLOVE.com/MADNESS now to find your perfect-fitting bra… and get 15% off your first purchase!
Madison Reed: Get 10% off plus FREE SHIPPING on your first Color Kit go to madison-reed.com and enter PROMO CODE: MADNESS
Research & Writing:
Joe Turner 
https://www.joeturnerbooks.com
Featured Podcasts:
Devil We Know -  https://www.spreaker.com/show/devil-we-know-podcast
Nature vs Narcissism -  https://www.spreaker.com/show/nature-vs-narcissism 
Looking for extra content?
If you would like to support the show and get some extra perks including extra content, including early release/ad-free episodes, Go to: https://www.patreon.com/MadnessPod
Website - https://mindsofmadnesspodcast.com/
Facebook - https://www.facebook.com/themindsofmadness/
Twitter - @MadnessPod
Instagram - https://www.instagram.com/themindsofmadness/
Don't forget to Subscribe, Like, Review, and Share. Please help listeners find this show more easily, by taking the time to review on iTunes. Thank you 
Sources:
https://books.google.co.uk/books?id=3CBFFkYrhCMC&printsec=frontcover#v=onepage&q&f=false)
https://murderpedia.org/male.B/b/benoit-chris.htm
https://www.nytimes.com/2007/06/27/us/27wrestler.html
https://omny.fm/shows/talk-is-jericho/inside-the-benoit-family-tragedy-on-talk-is-jerich
https://omny.fm/shows/talk-is-jericho/tij-ep10-chavo-guerrero-pt-1 
https://omny.fm/shows/talk-is-jericho/tij-ep11-chavo-guerrero-pt-2 
https://prowrestling.fandom.com/wiki/Chris_Benoit_double_murder-suicide
https://www.ringsidenews.com/2019/02/26/how-chris-benoits-brain-changed-wwe-forever/
https://abcnews.go.com/Nightline/chris-benoits-dad-son-suffered-severe-brain-damage/story?id=11471875
https://pwtorch.com/artman2/publish/wadekellerdotcom/45950.shtml
https://www.postandcourier.com/staff/mike_mooneyham/ring-of-hell-tells-disturbing-story/article_2c523c48-553a-594c-a4f8-33799a1ea5ca.html
https://en.wikipedia.org/wiki/Hart_Dungeon
https://www.athleticscholarships.net/concussion-wrestling-football-college.htm
https://news.miami.edu/stories/2019/07/nick-buoniconti,-co-founder-of-the-miami-project-to-cure-paralysis,-passes-away.html
https://www.youtube.com/watch?v=UeI4TmBkRhI
https://www.youtube.com/watch?v=-Wz9RbxD5j4