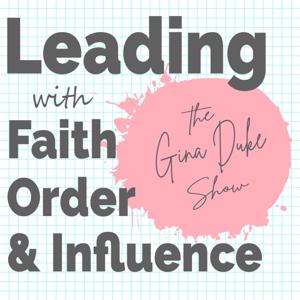 The Gina Duke Show, Leadership Coach, Christian Leader, Women's Ministry Mentor, Human Resources Consultant, Business Strategies, Boss
By Gina Duke, Leadership Coach, Female Business Leader, Transformational Leader, Human Resources Executive, Safety Professional, Women's Ministry Leader, Christian Thought Leader, ...
What's The Gina Duke Show, Leadership Coach, Christian Leader, Women's Ministry Mentor, Human Resources Consultant, Business Strategies, Boss about?
I help Christian women grown in faith, order and influence as a leader.
Do you consider yourself a faith-filled female leader, but feel more like everything is running amuck?
Do you long to get it together – your home, your calendar, your work flow, but just need a good framework to bring it altogether?
Have you decided that you are no longer available for being stuck - in your mind, in your emotions, in your career, and are looking for a colleague to come alongside you? Because that's me, girl!
You know what you want, but do you wish you knew where to start?
Do you wish you could pray, plan and lead better?
How about giving up those tired old ways of doing things and learn to lead with faith, order and influence?
In this podcast, you will find smart biblical teachings, valuable leadership maxims, and solid frameworks for work/life planning in real-time! My goal for you is to lead with confidence and clarity in your home, in your church, and in your career in every season!
Hi, I'm Gina. I am a wife, mom and a Gigi.
I left Corporate America in 2020 to focus my time, strengths and process-driven ideas to help godly, professional women like you attain a sense of accomplishment and ditch the spirit of defeat. Why? Because I too found myself totally depleted from the rat race. Instead, I longed to spend more time with God and family, have a life of order where I could focus on what is important so that I could minister to other women. This is where God began to share with me how to have a lifestyle of faith, order and influence. And now it is my turn to share this with other like-minded faith-filled female leaders like you!
As a Human Resources professional, I spent my career working with some of the best and most innovative companies in their industry where I consistently delivered world-class metrics. For a time, I served six years as a paid Director of Women's Ministry on staff at my church where I led and mentored women in their spiritual growth and maturity journey. And, I am also an award-winning Christian author of Abingdon Press's book Organizing Your Prayer Closet that introduces the gift of structured prayer journaling. All of these experiences have yielded a plethora of tips and best practices that I want to share in each of my episodes.
AND as a perpetual bonus to the listeners of my podcast, I will be providing mini-episodes to help you stay on track with your calendar planning so that you will be prepared for all the seasons, holidays and special events of your life and at work. No more letting stuff fall through the cracks, feeling unprepared and caught by surprise in life unless it is truly a legit surprise – like the good kind!
So here I am, ready to serve you so you can lead with faith, order and influence! You have permission to exhale now.
If you are ready to get a good grip on your life, instead of it dragging you along, and thrive in your circles of influence, I'm your facilitator and newest, dearest colleague. Prepare yourself for being prepared and primed for this next level of living and leading with revelation knowledge, solid strategies and highly focused frameworks. When we partner with God in life and leadership, He provides the light and license for us to lead with faith, order and influence. This is what I call LFOI – So let's go!
Learn more at www.GinaDuke.com
Connect more on Twitter and Instagram @TheGinaDuke
Shop more on Etsy at ChurchtownMarket
Collaborate more at https://www.facebook.com/groups/ginadukeshow