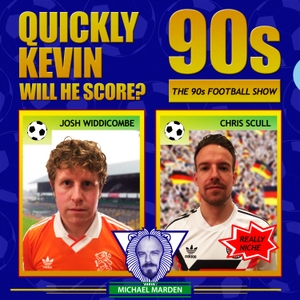 Series 3 - Episode 8 (part 2) The QK 90's Football Quiz
All good things must end. Series 3 wraps up with the trademark 90's Football quiz as we're joined in the studio by friends of the show, comedians Matt Forde and Tom Craine.
You'll laugh. You'll cry. You'll almost certainly contact us endlessly for the next year pointing out the factual inaccuracies. And as the curtain comes down on Series 3, thanks to all our guests, listeners, and everyone who got in touch with the show. We'll see you over the summer for some World Cup specials. Until then...
Twitter: @quicklykevin
Facebook:quicklykevin
Instagram: quicklykevin
Email: hello@quicklykevin
For your chance to win an exclusive 'Graham Says: Hit Les' Quickly Kevin mug leave us a 90's Football based 'Review Haiku' on iTunes!! (Or if words aren't your bag, you can buy one on ebay - simply search 'Hit Les mug' but hurry, once they're gone, they're gone!)
Thanks,
Chris, Josh and Michael. For information regarding your data privacy, visit acast.com/privacy