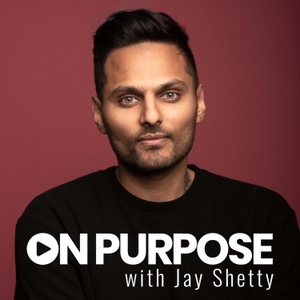 Perhaps, it is easier to tell someone to be brave and to do something they haven't done before. It's easier to be that encouraging voice on the side cheering for them. But it isn't as easy when you're at the receiving end, when you're the one being encouraged to do something you're uncomfortable doing.
It takes courage and an open mind to do something you're hesitant to do because it's outside of your comfort zone, especially when it's something you never thought of doing out of fear of failing or getting rejected. 
In this episode of On Purpose, Jay Shetty talks about how doing small uncomfortable things can gradually lead you to embracing changes and improving yourself. 
Go to http://samatea.com/onpurpose to get on the list for early access + receive a free 5-Minute Wellness Journal made to help guide you through your wellness journey and daily routine
Key Takeaways:
00:00 Intro
02:49 How to become comfortable with the uncomfortable?
06:05 Principle #1: Start small, do not go for the big things right away
08:29 Principle #2: Slow down, pause and reflect
12:11 Principle #3: Do one uncomfortable thing yearly
14:15 Principle #4: Surround yourself with people that do uncomfortable things
15:57 Principle #5: Know that it's okay to fail
17:56 Principle #6: Measure the miniscule improvement
20:06 Principle #7: Say you don't know anything when you only know a little
21:39 Principle #8: Accept correction and feedback without justification
22:47 Principle #9: Don't avoid and postpone what you started, start preparing 
Like this show? Please leave us a review here - even one sentence helps! Post a screenshot of you listening on Instagram & tag us so we can thank you personally!