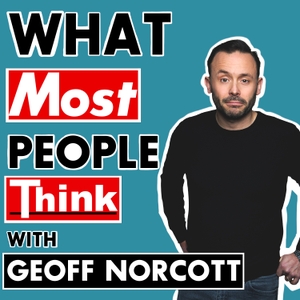 What Most People Think with Geoff Norcott
By Geoff Norcott
What's What Most People Think with Geoff Norcott about?
In an overwhelmingly woke comedic landscape, right-leaning stand-up Geoff Norcott is a rare beast. In WMPT he gets to the heart of what ordinary people think about social and political issues.
Whatever the contentious subject – he'll be honest and blunt, but without being a dick. Mostly.
Geoff has appeared on Live at the Apollo, Mash Report, Question Time, Mock the Week and pops up frequently on UK political debate programmes.
He's also written for shows ranging from Have I Got News For You and C4's Alternative Election to Judge Romesh, Roast Battle and JFL's Katherine Ryan Stand up show.
Geoff also won an operational medal for his five tours performing to British troops in Afghanistan.
"He's a class act with a mature, sharp take on modern politics." - Sunday Times
"A Right laugh." - The Guardian