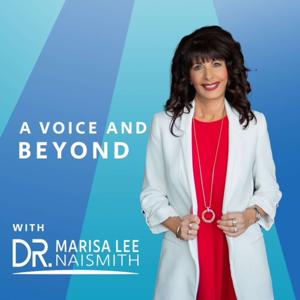 This week's guest is Linor Oren.
How many of us have been told that we can't sing, or that we can't hold a tune in a bucket or we have simply been told please don't sing? Whether we hear this from a family member, a singing teacher, or as I did from a choral director when I was in high school, this kind of discouragement can potentially silence many who will choose not to ever sing again.  In this episode, our guest is Linor Oren, a singing teacher from Amsterdam, who didn't sing until she was 21 years old, because of the impact of her father's words and actions as a child as he relentlessly and unknowingly pushed her way from singing. Linor shares with us how she finally discovered the joy of singing, however, once she launched into her performance career, as a professional opera and musical theatre singer, she suffered terribly from performance anxiety as a consequence of these childhood experiences. Linor tells us how these lived experiences ultimately led her into a teaching career, where she has developed a specific training program called Sing Well. The teaching philosophy behind her program was inspired by a need to help other singers overcome all the obstacles she had been confronted with on her journey of discovering her own voice.  Linor also has a popular YouTube channel with millions of views from almost 60,000 subscribers and she talks about one video in particular where she conducted a social experiment with approximately 20 willing participants. She surveyed them to find out how many of them had been told they could not sing and the consequences this had on them ever singing again. The results are surprising and to hear what happens, you must listen to this episode with Linor Oren.
In this episode
08:08 – Was singing culturally accepted in Israel? 09:55 – Her Father's impact on her singing ability 14:36 – Her biggest obstacle in having performance anxiety 17:55 – How did she overcome her anxiety 24:33 – The Non-Stop Principle 26:01 – Studying voice formally and moving to Amsterdam 27:29 – Breaking up with the love of her life 30:21 – Developing her voice teaching approach 36:20 – Bright Spots Concept 38:12 – Linor's teaching philosophy 41:10 – Does mental and emotional status impact a student's voice? 44:03 – The Negative Self Talk 46:32 – Walking up to random people in the park to ask questions about singing 58:46 – Linor reacting to Freddie Mercury and getting 4 Million views 1:02:04 – Linor's YouTube career 1:04:44 – Linor's first solo performance 1:07:59 – Linor's biggest advice to aspiring singers
Linor's Youtube: https://www.youtube.com/c/LinorOrenvoiceteacher Linor's Blog: https://singwell.eu/voice-tips/ Linor's Courses: https://singwell.eu/overview-singing-courses/
For more go to https://drmarisaleenaismith.com/57
Like this episode? Please leave a review here - even one sentence helps!
Follow me on Instagram.