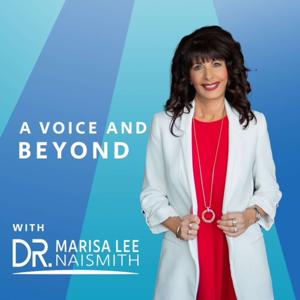 #18. Your Authentic Voice & Unique Brand (Part II) with Dr Wendy LeBorgne
07.04.2021 - By A Voice and Beyond
Today's guest is Dr Wendy LeBorgne.
Today we welcome back Dr Wendy in part II of her amazing interview, in which she shares with us her nerve racking Ted Talk experience, when she spoke on the topic of "Vocal Branding and How Your Voice Shapes Your Communication Image". In this episode, Wendy describes the elements of the voice which impact authentic and engaged communication. She believes that our voice is our most important communication asset which is unique to us and all our life experiences create our vocal story. By understanding and maximizing our communication strengths, this can lead us to successful and inspiring communication outcomes in all areas of our lives. Wendy describes how she helps others including politicians, Fortune 100 CEO's, presenters on network television, podcasters, and film actors discover and empower their authentic voices. We also have a little fun with my voice as Wendy breaks down the five key elements of voice that come together to create our personal voice brand.
Listen to Dr Wendy LeBorgne's Ted Talk
In this episode:
00:58 - Introduction 02:44 - Wendy's TED Talk 12:11 - Quality & clarity of voices 19:29 - Changes in pitch over time 28:04 - Voice vulnerability exercises 36:37 - Trying new things with your voice 43:10 - What's in the pipeline for Wendy?
For more go to https://drmarisaleenaismith.com/18
Like this episode? Please leave a review here - even one sentence helps!
Follow me on Instagram.