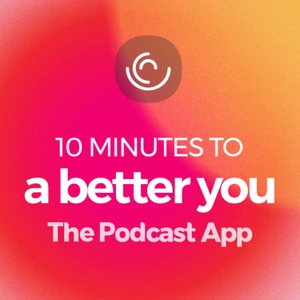 10 Minutes to a Better You
By The Podcast App & Ryan Soave
What's 10 Minutes to a Better You about?
Take 10 minutes a day for 10 days to become a better version of yourself.

After talking to our members, it became clear that the year 2020 has brought on unprecedented levels of anxiety - many people said they were having trouble quieting their minds, stopping negative thoughts, and falling asleep. We wanted to provide more support to our community so we decided to build an exclusive offering within our app that can help you overcome the stress we all face, in less than ten minutes a day.
To do so we partnered with Ryan Soave. Ryan is one of the most sought after therapists, as well as a coach, trainer, and speaker who for over a decade has served thousands of clients around the world, including me. He has a unique approach, blending both Eastern and Western healing techniques, and his work ranges from coaching Silicon Valley CEOs, celebrities and artists, to helping people recover from trauma and substance abuse.

Over the next 10 days, he will be teaching you easy and short tools and practices for you to begin to actualize your best self. He will also provide the teachings necessary to understand why we are utilizing these techniques and what their benefits can be.
We are excited to be here with you, share with you, and to serve you. Begin your journey today.