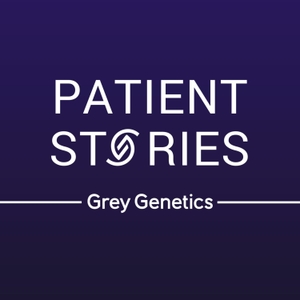 A couple gets engaged. They are both of Ashkenazi Jewish ancestry and read that carrier testing is recommended. They rightly assume that the most likely outcome is that they will not be carriers for the same condition. The results are a shock: Both are carriers for Mucolipidosis Type IV. They know they will use this information to inform their family planning decisions, but for years they vacillate between the expensive and involved option of IVF with preimplantation genetic diagnosis (PGD) or rolling the dice: trying to get pregnant naturally and pursuing prenatal testing, with the knowledge that a positive result for them would mean an abortion.
Related Resources
The Norton & Elaine Sarnoff Center for Jewish Genetics
Mucolipidosis Type IV Foundation
Have thoughts or a related story you'd like to share?
Leave us a short voice message here! We may use your message on a future show.
Check out other Patient Stories podcast episodes.
Read other Patient Stories on the Grey Genetics Patient Stories Page.
Do you want to support Patient Stories? You can now make a donation online!
Want to support Patient Stories in a non-monetary way? Leave us a review on iTunes, or share your favorite episodes on Social Media.
Patient Stories on Twitter: @GreyGeneticsPod
Patient Stories on Instagram: @patientstoriespodcast
Are you looking for genetic counseling? Patient Stories is sponsored by Grey Genetics, an independent telehealth genetic counseling and consulting company. Book an appointment with a genetic counselor specialized in your area of concern. All genetic counseling appointments take place over secure, HIPAA-compliant video-conferencing or by phone.
Not quite ready for genetic counseling but still looking for guidance? Check out our new family history review services here.