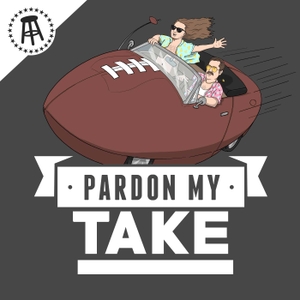 Blake Griffin Comes In Studio To Accept His 2019 "Blake Of The Year" Award + Mt Rushmore Of "Athlete Traits You Wish You Had"
07.22.2019 - By Pardon My Take
Brooks Koepka got screwed by JB Holmes + other 2019 "Open" storylines (2:27 - 10:51). Whose back of the week including the disgusting heat in NYC, Football and Hanks fishing abilities (10:51 - 22:06). Mount Rushmore of "Athlete Traits You Wish You Had" (22:06 - 32:44). 2019 Blake Of The Year winner Blake Griffin comes in studio to talk about how he his life has changed since winning the award, NBA free agency, Chris Paul & more (32:44 - 60:07). Segments include Way To Stay Relevant Baseball a Sabermetrics for podcasters, a preposterous Take Quake involving the cast of The Office and a great Monday Reading to wrap up the show.