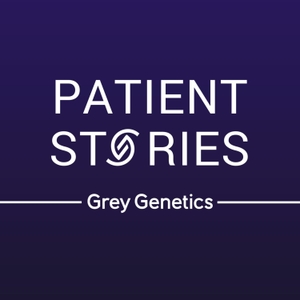 While Carlos was studying Biology in the U.S., his father was diagnosed with Philadelphia Chromosome positive Acute Lymphocytic Leukemia (Ph+ALL) in Mexico. The same condition which he'd just learned about in school and had captured his intellectual curiosity was also now very personal. Carlos shares how genetic testing opened up options for his father's course of treatment but also introduced myriad decisions to be made about his father's care, the burden of which fell almost entirely upon his mother. He discusses how he thinks a genetic counselor could have helped the family through these many decisions and also shares his perspective on the importance of end of life care.
Have thoughts or a related story you'd like to share?
Leave us a short voice message here! We may use your message on a future show.
Check out other Patient Stories podcast episodes.
Read other Patient Stories on the Grey Genetics Patient Stories Page.
Do you want to support Patient Stories? You can make a donation online!
Want to support Patient Stories in a non-monetary way? Leave us a review on iTunes, or share your favorite episodes on Social Media.
Patient Stories on Twitter: @GreyGeneticsPod
Patient Stories on Instagram: @patientstoriespodcast
Are you looking for genetic counseling? Patient Stories is sponsored by Grey Genetics, an independent telehealth genetic counseling and consulting company. Book an appointment with a genetic counselor specialized in your area of concern. All genetic counseling appointments take place over secure, HIPAA-compliant video-conferencing or by phone.
Not quite ready for genetic counseling but still looking for guidance? Check out our new family history review services here.