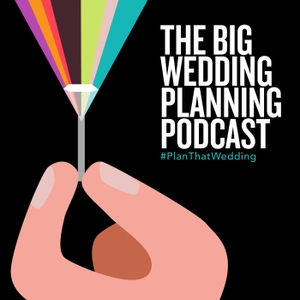 Today we talk about some easy ways to make your wedding more sustainable / Green. Remember it is not all or nothing, do what you can! Our guest is Sarah Baillie is a sustainable wedding expert who educates soon-to-wed couples on how to plan the unique wedding of their dreams while embracing their eco-conscious values. Sarah also oversees SoKind, an alternative gift registry, where couples can register for secondhand or homemade gifts, charitable donations, gifts of time or service, experiences, and more.
Big Takeaways
While there are less meals and less people typically at a destination wedding, local weddings are actually more environmentally friendly. Flying vs driving is a big difference, flying emits about 75x the emissions.
When you have your ceremony and reception in one place, you reduce emissions, and it does make the day a lot easier. If you do have to go from a point A to point, having a shuttle bus is a much more efficient means of travel than everyone driving separately.
Choosing a place that is already pretty can reduce costs and waste of one-time use decorations. Sarah opted for clutches instead of flowers for herself and her wedding party. This was another way she was able to reduce waste, plus she had the added bonus of having a bag to put her vows in.
Opting out of red meat, or going full vegetarian are great ways to reduce your carbon foot print. Because Sarah is vegetarian and her partner is not, they decided to have entirely vegetarian appetizers, and chicken and fish for the entree.
Finding a vintage, or gently worn wedding gown can be a game changer. Free Ever After Bridal is the place that Sarah went, and was able to have the whole experience of the dressing room and trying many different styles and options.
Facebook marketplace and Buy Nothing groups are a great option for decor. In Buy Nothing, you could potentially give or receive the exact items you are looking for without any cost associated. Taking a little time to look for items somewhere other than amazon, or where you would have to buy new can be great for sustainability.
Buffets do tend to have more waste than plated dinners. Making desserts easier to walk around with helps reduce waste. Ask what happens with the food that is left behind! Keep track of your numbers so they are as accurate as possible. Ask the caterer to bring to-go containers for buffets, ideally not plastic, so you can send the guests off with food!
Favors are a great place to reduce waste. Inevitably, there will be leftovers, so think about things you would want. Consumables are a great idea, like cookies.
Biodegradable/Compostable dishes and utensils instead of plastic and styrofoam - Party favors like glasses that guests will use throughout the night
Links We Referenced
Wildlife-Friendly Wedding Calculator
wildlifefriendlywedding.org
Adventure Aquarium (Sarah's Wedding Venue)
Free Ever After Bridal (Where Sarah bought her wedding gown)
So Kind Registry (Alternative Gift Registry)
Center For Biological Diversity
Center For Biological Diveristy on Instagram
Center For Biological Diversity on Twitter
Quotes
"Another decision, that I recommend, is choosing a place that's already pretty and doesn't need a lot of decoration."- Sarah
"About 10% of all food at weddings goes to waste, so anywhere you can find ways to reduce that is going to be beneficial." - Sarah
"I don't want it to get overwhelming of all the sustainability things, every little bit counts, it doesn't have to be all or nothing." - Sarah
"You could opt out of favors, all together, but I did like the idea that you could do something good with them." - Sarah
The Big Wedding Planning Podcast is...
Hosted and produced by Christy Matthews and Michelle Martinez.
Edited by Veronica Gruba.
Music by Steph Altman of Mophonics.
On Instagram @thebigweddingplanningpodcast and be sure to use #planthatwedding when posting, so you can get our attention!
Inviting you to become part of our Facebook Group! Join us and our amazing members. Just search for The Big Wedding Planning Podcast Community on Facebook.
Easy to get in touch with. Email us at [email protected] or Call and leave a message at 415-723-1625 and you might hear your voice on an episode
On Patreon. Become a member and with as little as $5 per month, you get bonuse episodes, special newsletters and Zoom Cocktail Hours with Christy & Michelle!
Our Partners
Special Deals for Listeners - TBWPP Enthusiastically Approved!
Wedfuly
FlowerMoxie
The Flashdance
Cactus Collective
Unboring Officiant Special Guest: Sarah Baille. Sponsored By:Spear Travel Group: Spear Travel Group takes the stress out of travel planning!