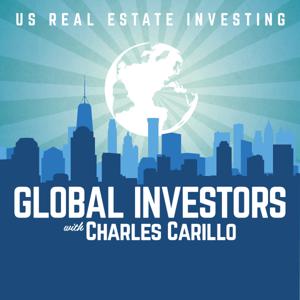 Global Investors: Passive Investing in U.S. Real Estate
By Charles Carillo
What's Global Investors: Passive Investing in U.S. Real Estate about?
The Global Investors Podcast focuses on helping both; American and foreign investors generate passive income by investing in U.S. real estate. Listen to interviews with investors, syndicators, lenders, attorneys, property managers, and other industry professionals who have successfully built their businesses while working with investors to create passive income.
Host Charles Carillo (of HarborsidePartners.com) began investing in apartments in 2006 with a 3-family house and has since invested in thousands of apartments throughout the U.S. alongside hundreds of passive investors.
If you're interested in generating passive income and financial freedom through real estate…then this is the podcast for you! Discover proven strategies to make money in U.S. real estate while avoiding costly mistakes.
*Wednesdays: Interviews with a variety of successful real estate investors and professionals.
*Saturdays: "Strategy Saturday" – Charles discusses an array of real estate topics including asset classes, market selection, underwriting, purchasing, and property management. Charles offers actionable advice as he explains mistakes made and lessons learned throughout his career.
If you enjoy; BiggerPockets, Rich Dad (Robert Kiyosaki), or Entrepreneurs on Fire, you will love this podcast!
Learn more at: www.GlobalInvestorsPodcast.com
Passively invest in real estate: www.HarborsidePartners.com
Learn how to invest in real estate: www.SyndicationSuperstars.com