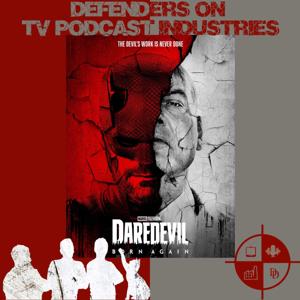 We received lots of Loki Episode 1 Feedback so we decided to record a special episode just with all of our fellow Defenders thoughts. Thank you all for sharing your thoughts.
Loki Season 1 Cast
* Loki Laufeyson played by Tom Hiddleston* Mobius M. Mobius played by Owen Wilson* Hunter B15 played by Wunmi Mosaku* Juge Ravonna Renslayer played by Gugu Mbatha-Raw* Casey The Paperwork Clerk played by Jon Levin
A Return to Defending
As we are returning to the Marvel TV universe we are using the format of our former Marvel podcast, Defenders TV Podcast. We discuss:
- Our Top 5 Points (or Variants) of the episode
- Whether we each Defend the episode or not
- Notes, Quotes and comic references
The Loki Pub Quiz
During each podcast we'll ask a question about each episode in our Loki Pub Quiz. You can send in your answers each week to [email protected] At the end of the six episode series the listeners with the most correct answers will be in with the chance of getting their hands on some Loki goodies. All questions will be updated on: https://www.tvpodcastindustries.com
Feedback for Loki
Once you've watched the episodes you can email us to [email protected], you can message us @TVPodIndustries on Twitter or join our Facebook group at https://facebook.com/groups/tvpodcastindustries and share your thoughts in our spoiler posts for each episode.
Follow us and Subscribe to the Podcast
If you want to keep up with us and all of our podcasts, please subscribe to the podcast over at https://tvpodcastindustries.com. Where we will continue to podcast about multiple TV shows we hope you'll love.
Next time on TV Podcast Industries
We'll be back on Saturday the 12th June with our discussion of the latest episode of Star Wars The Bad Batch and we'll return next week with Loki Episode 2.
You can also join us on our main feed for all of our podcasts including Loki, Star Wars The Bad Batch, Wandavision, Falcon and The Winter Soldier and much much more.
https://open.spotify.com/show/71WiYolZMPxB7QVSTMZ5zk?si=0jZB4BISQ66NaBvD_1q5VQ
Until then,