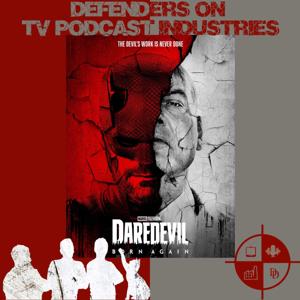 We're at the penultimate episode with Loki Episode 5 "Journey Into Mystery" as the Loki's converge at The Void at the end of time. Derek and John chat all about it in full spoiler-filled detail.
Loki Episode 5 "Journey Into Mystery" Synopsis
Head Writer: Michael Waldron
Episode Written by: Tom Kauffman
Episode Directed By: Kate Herron
Loki awakes in the void with Classic Loki, Kid Loki, Boastful Loki and Alligator Loki they need to get out of there before the reality eating creature Alioth destroys them.
Back at the Time Variance Authority, Judge Renslayer explains to Sylvie that the pruned timelines and variants are sent to The Void at the end of time. Loki is alive there but there's no way to get there and back. Renslayer, using Miss Minute, keeps Sylvie busy looking for files on the imaginary void time machine to distract her while her team arrives to recapture her. But Sylvie takes the judge's tempad and prunes herself.
As a war for power breaks out between the distrustful Lokis, Sylvie arrives at The Void and connects with Alioth where she sees a world beyond. As she makes her escape from Alioth she's saved by Mobius M Mobius in his pizza car.
Meanwhile back at the TVA Renslayer sets a lengthy task for Ms Minutes to gather all the data on the beginning of the TVA and interrogates Hunter B-15. But B-15 realises the judge is desperately looking for information on who created the timekeepers.
Back at the end of time, Loki plans to kill Alioth thinking he can rest back control of the Void but Sylvie realises that working together they can enchant it, bringing it under their control and escape from their prison. Loki gives the stolen tempad to Mobius so he can return to the TVA.
Classic Loki uses his glorious magical power to create a replica of Asgard, this distracts Alioth long enough to give Sylvie and Loki time to control one of its branches. As they enchant Alioth, the angry cloud turns green and begins to dissipate. As the cloud rolls back a hidden castle is revealed at the centre of the beast. Will they find the true timekeepers or their creator?
Loki Season 1 Cast
* Loki Laufeyson played by Tom Hiddleston* Mobius M. Mobius played by Owen Wilson* Hunter B15 played by Wunmi Mosaku* Juge Ravonna Renslayer played by Gugu Mbatha-Raw* Hunter C20 played by Sasha Lane* Young Sylvie played by Cailey Fleming* The Variant/Sylvie played by <a href="https://...