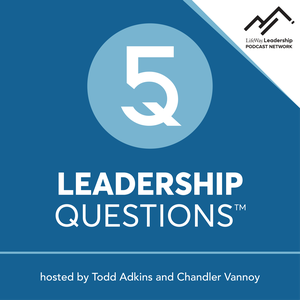 In this episode of the 5 Leadership Questions podcast, Todd Adkins is joined by Dave Schroeder, marketing leader for B&H; Books and cohost of the Table of (Mal)Contents Podcast. During their conversation, they discuss their five favorite leaders and what they have learned from them.
BEST QUOTES
"I love Shackleton because of his fortitude, resilience, leadership in the flesh.""General Oliver P. Smith led from within and he stayed with his troops. He survived in the way that they survived.""Eleanor Roosevelt had a lot of influence as first lady and took advantage, in a good way, of that position, as well as anybody before or since, to do great good.""Condoleezza Rice's reputation is a tower of strength as a leader and a sharp and shrewd negotiator who held a position that was not normal for a woman or minority and did it excellently.""Churchill never slowed down. He took losing his position as a big punch, but hung on.""My favorite story about Lincoln that is helpful for me every day is when Lincoln would get mad at his generals for being unwilling to fight, so he would write long letters to them but never send them.""My favorite episode in 'Band of Brothers' is episode 7. What I love about it is it showcases the best and worst leadership."
RECOMMENDED RESOURCES
LifeWay Leadership Podcast Network
5LQ Episode 180: How to Market and Launch a Book
5LQ Episode 353: Leadership Biographies with Dave Schroeder
Endurance: Shackleton's Incredible Voyage by Alfred Lansing
On Desperate Ground by Hampton Sides
Napoleon by Andrew Roberts
Lincoln on Leadership by Donald T. Phillips
<a href="https://www.amazon.