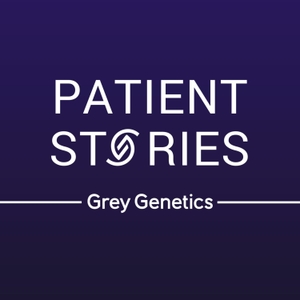 Patient Stories is taking a hiatus. We plan to be back in the fall with a third season. We would love to better understand our audience. If you could take 1 minute to fill out this survey, we would appreciate it!
Check out past Patient Stories podcast episodes.
Read Patient Stories on the Grey Genetics Patient Stories Page
Support Patient Stories! You can make a donation online!
Want to support Patient Stories in a non-monetary way? Leave us a review on iTunes, or share your favorite episodes on Social Media.
Patient Stories on Twitter: @GreyGeneticsPod
Patient Stories on Instagram: @patientstoriespodcast
Are you looking for genetic counseling? Patient Stories is sponsored by Grey Genetics, an independent telehealth genetic counseling and consulting company. Book an appointment with a genetic counselor specialized in your area of concern. All genetic counseling appointments take place over secure, HIPAA-compliant video-conferencing or by phone.
Not quite ready for genetic counseling but still looking for guidance? Check out our new family history review services here.