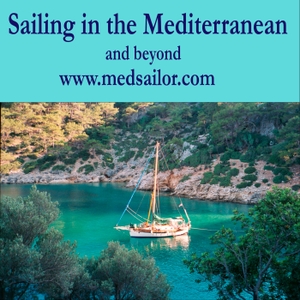 I have a great interview with Kivanc and Danielle of See Bee Sailing
Kivanc and Danielle Aslaner from the Bay Area California, who just bought their dream boat in Croatia, quit their jobs and are about to live full-time on their boat and start sailing the world.
Kivanc is originally from Istanbul and had an interest in sailing and the nautical lifestyle from a young age. While he was growing up in Turkey, sailing was a sport mostly for those well off and seemed inaccessible. His time and attention were also focused on other things such as finishing his education. Fast forward 10 years later to California where he discovered the benefits of belonging to a sailing club. OCSC (Olympic Circle Sailing Club) in the Bay Area opened up the world of sailing in an affordable way, while offering courses taught by top-notch sailing instructors. After Kivanc received a number of sailing certifications, Danielle decided to take a crew class so she could be of more help to Kivanc on the sailboats they chartered in the club and understand the sailing nomenclature better. After the crew class, things started to click with Danielle around understanding basic sailing principles and how things functioned on the boat. Within one year, Danielle jumped all in and completed nearly all the sailing courses offered by the club, including Coastal Passage Navigation. She even started a woman's only sail group with another sailing pal from OCSC.
Over the years as Kivanc and Danielle grew into their sailing hobby their priorities shifted. Both had established careers in high-tech but they craved something more out of life. After doing a number of destination charters around the world, they developed a taste of what it would be like to liveaboard a sailboat. The decision was made 6 years ago to start saving for a sailboat and take a 2-3 years sabbatical from work to experience living aboard and exploring part of the world while sailing. The plan was to start in early 2020 but then the Covid pandemic hit and they were stuck at home an extra year. Danielle even quit her job right beforehand. Instead of being down about this unexpected delay, a lot of soul searching happened and they made the decision to go "all in" with their sailing adventure when they could eventually depart from America. Instead of the original 2-3 year plan, they now have no plans to return to America and will keep sailing as long as it's enjoyable and as long as the money lasts.
Kivanc and Danielle bought their dream boat a 45' Elan Impression in Croatia at the beginning of 2020, right before the pandemic. They named her Sea Bee a combination of their two shared hobbies – beekeeping and sailing. She has been patiently waiting in a marina for their return – which is about to happen at the end of April, 2021.
Kivanc, Danielle and I talked about their adventures in buying a boat in Croatia to go cruising with. Kivanc goes into great detail about this in his YouTube video which is below:
https://youtu.be/aZc5kjFyybo
If you have suggestions for future episodes please write me a note.   franz1 at medsailor dot com
Please Consider supporting the podcast in Patreon
Want me to go sailing with you? Then contact me!
If you have ideas for future podcasts or comments please drop me a note! and PLEASE rate my podcast in iTunes and perhaps write a note.
link https://itunes.apple.com/us/podcast/sailing-in-the-mediterranean/id566678892?mt=2
Loading...
 
<a href="https://gum.