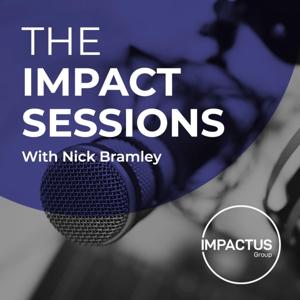 The Impact Sessions Podcast
By impactusgroup
What's The Impact Sessions Podcast about?
A weekly business related podcast hosted by Nick Bramley CEO of IMPACTUS Group. Whilst Nick himself is an engaging Host, the Impact Sessions Podcast comes to life through the quality of the guests Nick is able to attract.
Interviews with interesting, engaging and expert guests from all sorts of fields and sectors sharing their real world experiences on everything from;
Sales
Marketing
Leadership
Culture
People
Wellness & Well-Being
Strategy
Innovation
Inspiration
Customer Focus
Communications
PR
Entrepreneurship
Manufacturing Excellence
Branding
There is something for everyone and a new episode is released every Tuesday.
Why not subscribe to automatically get your "fix" and maybe a 5* review would be appropriate too?
Thanks for your support for The Impact Sessions Podcast