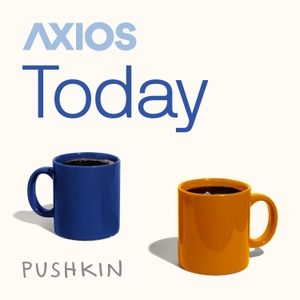 The language of COVID boosters
08.18.2021 - By Axios Today
Today, President Biden is expected to announce his administration's recommendation for a third dose for all vaccinated Americans. This follows the CDC and FDA approval last week of a third shot for those who are immunocompromised. But a "third dose" and a "booster" can refer to different things.
Plus, what the new school year looks like for parents across America.
And, companies address employee mental health.
Guests: Axios' Tina Reed, Erica Pandey, Russ Contreras, and Margaret Talev
Credits: Axios Today is produced in partnership with Pushkin Industries. The team includes Niala Boodhoo, Sara Kehaulani Goo, Dan Bobkoff, Alexandra Botti, Nuria Marquez Martinez, Sabeena Singhani, and Michael Hanf. Music is composed by Evan Viola. You can reach us at [email protected] You can text questions, comments and story ideas to Niala as a text or voice memo to 202-918-4893.
Go deeper:
Boosters take off
COVID cases in kids are rising just as schools are coming back
Mental health is the next big workplace issue
Learn more about your ad choices. Visit megaphone.fm/adchoices