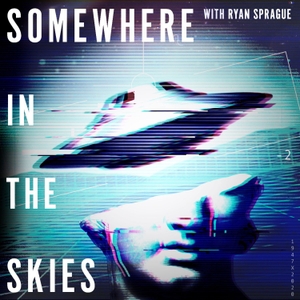 On episode 235 of SOMEWHERE IN THE SKIES, Ryan joins the Rogue Planet crew in a special panel discussion featuring former USAF Missile Launch Officer, Robert Salas. The panel was hosted by Best-Selling author and radio show host, Peter Robbins. The panel discusses Salas' involvement in the famous Maelstrom Air Force Base Nuclear Missile Incident. On March 24th, 1967, it is alleged that ten of the base's Minuteman ICBMs known as Oscar Flight became inoperative, after UFOs were seen hovering over them. Robert Salas was the Captain in charge at the time. He will also field questions from the panel in relation to his upcoming conference being held at the National Press Club, in Washington D.C. on October 19th, titled, The UFOs and Nukes Connection, which you can Livestream for free on Youtube.
Livestream the UFOs and Nukes Press Conference at: https://youtu.be/LTf5-TNASoI
Subscribe, with discount code: PETER, to KGRA and Meanwhile Here on Earth at: https://kgradb.com/
Patreon: www.patreon.com/somewhereskies
Website: www.somewhereintheskies.com
YouTube Channel: CLICK HERE
Official Store: CLICK HERE
Somewhere in the Skies Coffee! https://bit.ly/3mIAq2o
Order Ryan's book in paperback, ebook, or audiobook by CLICKING HERE
Twitter: @SomewhereSkies
Instagram: @SomewhereSkiesPod
Somewhere in the Skies Subreddit: www.reddit.com/r/SomewhereSkiesPod/
Watch Mysteries Decoded for free at www.CWseed.com
Episode edited by Jane Palomera Moore
Opening Theme Song, "Ephemeral Reign" by Per Kiilstofte
SOMEWHERE IN THE SKIES is part of the eOne podcast network. To learn more, CLICK HERE
Copyright © 2021 Ryan Sprague. All rights reserved.
Copyright Disclaimer: Under Section 107 of the Copyright Act 1976, allowance is made for "fair use" for purposes such as criticism, comment, news reporting, teaching, scholarship and research. Fair use is a use permitted by copyright statute that might otherwise be infringing. Non-profit, educational or personal use tips the balance in favor of fair use. Support this show http://supporter.acast.com/somewhere-in-the-skies.
 See acast.com/privacy for privacy and opt-out information.