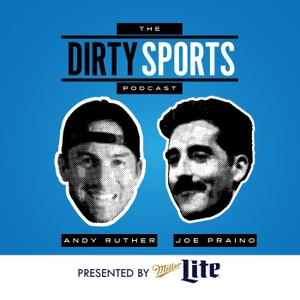 Andy is joined by Andy Lazarus, filling in for Joe Praino. They open the show discussing if the Reds should trade Yasiel Puig and possible teams he'd fit in with. Next they talk Giants, Madison Bumgarner and teams looking to make moves. Then they cover Dwight Gooden's latest arrest and Laz addressed his actions from NBA Finals Game 6. Next they cover & discuss ESPN's list of best colleges for NFL QBs. They finish the show discussing Adrian Peterson's debt and ways to invest money.
www.patreon.com/dirtysports
www.brooklinen.com - Promo Code: Dirty
www.takecheers.com/dirty
Seat Geek - Promo Code "Dirty"
Subscribe on YouTube - www.youtube.com/DirtySports
Follow us on Instagram: www.instagram.com/thedirtysports/
Follow us on Twitter - twitter.com/thedirtysports
Follow Andy Ruther on IG - www.instagram.com/AndyRuther/
Follow Joe Praino on IG - www.instagram.com/JoePraino/