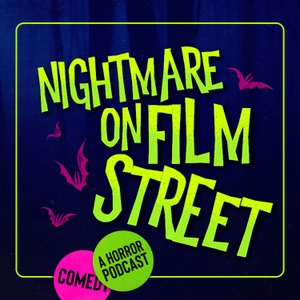 Join Kim and Jon on this week's episode of Nightmare on Film Street for the perfect summertime horror subgenre: Animal Attacks! We're taking a quick break from our month-long salute to Stephen King to discuss the killer crocodiles of LAKE PLACID (1999) and the suspiciously-hungry snakes of ANACONDA (1997). Come for the water monsters, stay to hear two dummies that don't know the difference between a crocodile and an alligator. Oh, and there's a strange power surge halfway through the episode that maybe almost killed us dead. Enjoy! 
---
Website: www.NOFSPODCAST.COM 
Twitter: www.twitter.com/nofspodcast 
Instagram: www.instagram.com/nightmareonfilmstreet 
Facebook Page: www.facebook.com/nightmareonfilmstreet 
Facebook Group: www.facebook.com/groups/horrorfiendsofnofs 
Subreddit: www.reddit.com/r/nightmareonfilmstreet/ 
Support the Show:
Unlock access to exclusive bonus content and earn some other frightfully good rewards, including shoutouts, merch, and swag by supporting Nightmare on Film Street on Patreon.  This week, Patreon supporters can enjoy an exclusive companion episode where we continue the conversation on LAKE PLACID and ANACONDA with a little game we're calling "Monster OR Madman?", available at www.patreon.com/nightmareonfilmstreet.