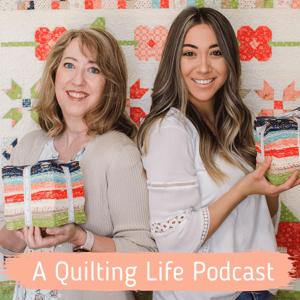 Choosing Thread Colors, Fabric Preparation, and Beginner Quilt Project Ideas
06.14.2021 - By A Quilting Life Podcast
In this episode Sherri and Chelsi discuss coordinating the correct thread colors with their quilts, give tips for preparing fabric prior to sewing, and share some ideas for the best beginner quilt projects. The winners of the one year anniversary giveaway are also announced in this episode! Other topics discussed include: mixing pre-washed fabrics with unwashed fabrics, using old thread, quilt borders, half-square triangles, flying geese, basting for machine quilting, and international travel destination wish lists.
For complete show notes, and pictures and links to all of today's featured quilts and fabrics, visit the A Quilting Life Blog: https://www.aquiltinglife.com/2021/06/a-quilting-life-podcast-episode-30-show-notes.html/
Visit the A Quilting Life YouTube channel for more great video content: https://www.youtube.com/channel/UCmSR-jDR956ATQe30JHX87w
Enjoy what you heard? Be sure to rate and review us on Apple Podcasts and your review could  be read on the show!