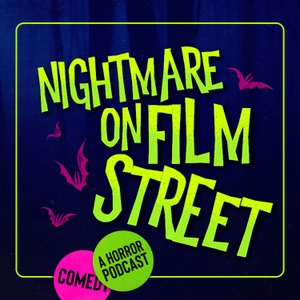 Stephen King Month Lives! Andy Muschietti's IT CHAPTER TWO is only a few short weeks away and we're celebrating the only way we know how: with another Stephen King double-feature. Join Kim and Jon on this mini episode of Nightmare on Film Street to get a head start on the films we'll be covering in next week's episode, "Home is Where The Horror is". But before pealing back the curtain, we share our thoughts on Johannes Roberts' 47 METERS DOWN: UNCAGED, the recently announced MATRIX 4, and (of course) MINDHUNTER Season 2. So sit back, dim the lights, and get ready for the coming attractions!
---
Website: www.NOFSPODCAST.COM (http://www.nofspodcast.com/)
Twitter: http://www.twitter.com/nofspodcast
Instagram: http://www.instagram.com/nightmareonfilmstreet
Facebook Page: http://www.facebook.com/nightmareonfilmstreet
Facebook Group: http://www.facebook.com/groups/horrorfiendsofnofs
Subreddit: https://www.reddit.com/r/nightmareonfilmstreet/
Support the Show:
Unlock access to exclusive bonus content and earn some other frightfully good rewards, including shoutouts, merch, and swag by supporting Nightmare on Film Street on Patreon (https://www.patreon.com/nightmareonfilmstreet) .
Head to http://www.patreon.com/nightmareonfilmstreet.