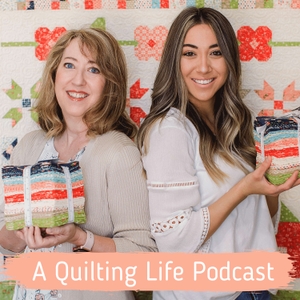 Getting Started in Pattern & Fabric Design, Storing Quilts, and Las Vegas Quilt Shops
04.19.2021 - By A Quilting Life Podcast
In this episode Sherri and Chelsi discuss how to get started in the quilt pattern and fabric design industries, share some ideas for storing quilts, and shout-out a few of their favorite quilt shops in the Las Vegas area. Other topics discussed include: binding strip width, project cutting tools, hopes for a future Christmas fabric collection, pillowcases and shams, and their favorite clothing shops.
For complete show notes, and pictures and links to all of today's featured quilts and fabrics, visit the A Quilting Life Blog: https://www.aquiltinglife.com/2021/04/a-quilting-life-podcast-episode-26-show-notes.html/
Visit the A Quilting Life YouTube channel for more great video content: https://www.youtube.com/channel/UCmSR-jDR956ATQe30JHX87w
Enjoy what you heard? Be sure to rate and review us on Apple Podcasts and your review could  be read on the show!