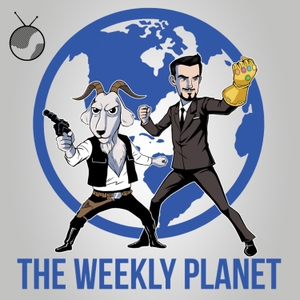 Join the 10 million who have tried Harry's. Claim your trial offer by going to
HARRYS.COM/WEEKLYPLANET
Godzilla King Of The Monsters is here and fighting and cities and whatever. But also trailers for Onward, The Kitchen and Rambo Last Blood, Venom VS Spider-Man, Robat Battinbat confirmed as Batman, changes to Dark Phoenix, Lion King posters, news on The New Gods and another thing I've forgotten. That's for listening!
0:00 The Start
3:25 Robat Battinbat confirmed
5:42 Dark Phoenix original ending
13:13 Lion King posters
15:01 Onward trailer
18:24 Venom VS Spider-Man maybe I guess?
21:13 Rambo Last Blood
29:12 The Suicide Squad casting update
32:01 The Kitchen trailer
35:50 Tom King co-write New Gods movie
45:01 Godzilla King Of The Monsters (spoilers 1:03:26 - 1:13:48)
1:13:48 What We Reading/What We Gonna Read
1:21:16 Letters It's Time For Letters
The Weekly Planet YouTube Channel: https://goo.gl/1ZQFGH
James' Twitter ► http://twitter.com/mrsundaymovies
Maso's Twitter ► http://twitter.com/wikipediabrown
Patreon ► https://patreon.com/mrsundaymovies
T-Shirts/Merch ► https://www.teepublic.com/stores/mr-sunday-movies
The Weekly Planet iTunes ► https://itunes.apple.com/us/podcast/the-weekly-planet/id718158767?mt=2&ign-mpt;=uo%3D4
The Weekly Planet Direct Download ► https://play.acast.com/s/theweeklyplanet
Buy Godzilla: King Of Monsters ► https://amzn.to/2naa2nM
 See acast.com/privacy for privacy and opt-out information.