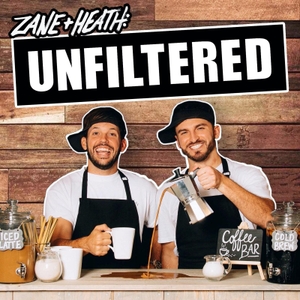 Don't be surprised if the steamy conversations on this week's episode makes you all hot and bothered. But I mean, what better way to stay warm on these bone-chilling winter nights than some boner-talk amongst friends? We discuss an unexpected influencer's smut film debut. The topics then get more wholesome and less "hole-some" when we hear Heath's teary-eyed best man speech and the gang talks about their favorite holiday traditions. Don't misunderstand us though, we aren't so set in our traditions that we don't like to try new things. Just ask Zane about the new drug he's been injecting or why Heath agreed to be blindfolded and interrogated in an empty parking lot! 
Alright, on second thought, maybe we should stick to what we know…….. And whenever we find out exactly what that is, we will be sure to let YOU know right here on Zane + Heath: UNFILTERED!
Go to calm.com/unfiltered to get a limited time offer of 40% off a Calm premium subscription
Go to storyworth.com/unfiltered and get ...