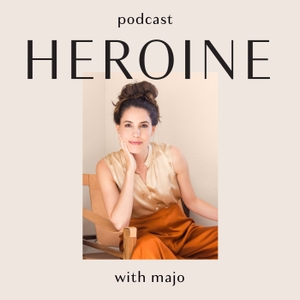 What's Heroine about?
Life journeys and down-to-earth conversations with women creative leaders and risk-takers – ordinary women who do extraordinary things because they embrace the unknown. Emphasis on women in innovative fields with science and art intersect, such as design, tech, and business.
Guests have landed in headlines at Forbes, TechCrunch, TED, Fast Company, GigaOm, The Wall Street Journal, O, The Oprah Magazine, Refinery29, CreativeMornings, and The Great Discontent.
Hosted by writer and women's leadership coach Maria Molfino, the show hopes to debunk the myth of "overnight success" and support women listeners in their own creative leadership. Come figure it out with us, as we fumble our way through the dark…
Key themes we'll explore: women, leadership, creativity, creative leadership, creative confidence, confidence, inspiration, motivation, wisdom, self help, and spirituality.
Other shows Heroine recommends: Girl Boss, She Does, Women of The Hour, The Lively Show, Re/code Decode, After The Jump, Magic Lessons, Being Boss, Insights at the Edge, The Good Life Project, and Happier with Gretchin Rubin.