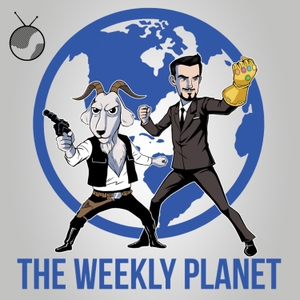 For $80 off your first month visit https://www.hellofresh.com/landing/weeklyplanet80 and enter weeklyplanet80
Check out https://casper.com/theweeklyplanet and use the offer code THEWEEKLYPLANET for $50 off.
Pennywise, the spookiest of clowns (top 5?) returns to cinemas for IT Chapter Two so we return to talk about that. Plus DC news with a leaked Birds Of Prey teaser, trailers for Jo Jo Rabbit & Bad Boys 4 Lyf, OUATIH the series, Joker wins awards, The Batman updates and more! Thanks for listening.
Two In The Think Tank: http://bit.ly/2klXdFL
Suggestibles Podcast: https://aca.st/cf053a
Donate Here Please: https://www.theintrepidfoundation.org/planetbroadcastingfundraiser
0:00 The Start Of The Show
2:40 The Jeremy Renaround
7:48 Bad Boys 4 Lyf
13:54 Joker wings awards
15:32 Spider-Man door closed
17:31 Jo Jo Rabbit trailer
19:46 Tomb Raider director
23:46 Hayley Atwell in MI7
27:28 OUATIH TV series
30:05 Suicide Squad casting
32:10 The Batman update
34:12 Birds Of Prey teaser
35:25 The New...Nothing?
40:54 IT Chapter Two (spoilers 54:45 - 1:05:41)
1:05:41 Letters It's Time For Letters
1:11:38 What We Reading/What We Gonna Read
James' Twitter ► http://twitter.com/mrsundaymovies
Maso's Twitter ► http://twitter.com/wikipediabrown
Patreon ► https://patreon.com/mrsundaymovies
TWP Itunes ► https://itunes.apple.com/us/podcast/the-weekly-planet/id718158767?mt=2&ign-mpt;=uo%3D4
 
TWP Direct Download ► https://play.acast.com/s/theweeklyplanet
 
TWP YouTube Channel ► https://goo.gl/1ZQFGH
 
Buy IT on Amazon ► https://amzn.to/30Y1bnj
 
T-Shirts/Merch ► https://www.teepublic.com/stores/mr-sunday-movies
 See acast.com/privacy for privacy and opt-out information.