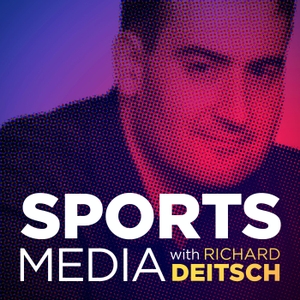 Episode 37 of the Sports Media Podcast with Richard Deitsch features two guests: First up is Laura Rutledge, a reporter and host for ESPN in a number of roles including as a reporter on live-event programming such as college football as well as a co-host on "Get Up" and the SEC Network's "SEC Nation." She is followed by Kevin Clark, an NFL writer, podcaster and video host for The Ringer. He previously covered the NFL for The Wall Street Journal.
In this podcast, Rutledge discusses her various roles on major college football and other sports as well as hosting; her work process for each of those roles within ESPN; how she landed on "Get Up" and what ESPN has told her about her future there; her thought process on discussing Courtney Smith and Urban Meyer via commentary; facing sexism and chauvinism on social media; dealing with the stereotypes that exist on her being a former Miss Florida; the specific differences in working the sidelines on Monday Night Football versus college football; the passion of college football fans in the South; her experience being a regular on The Paul Finebaum Show; getting offered to join the Nashville and Sarasota ballets; and more. 
Clark discusses his unique  style of NFL writing and how he finds his stories; why he left The Wall Street Journal for The Ringer; why the football analytics revolution may not be obvious, but it is happening in front of our eyes; whether wins above replacement a good metric for NFL; the interest in NFL viewers in analytics; his access working for The Ringer versus the Wall Street Journal; his thoughts on the Patriots-Rams Super Bowl, and more. 
You can subscribe to this podcast on Apple Podcasts, Google Play, Stitcher and more.