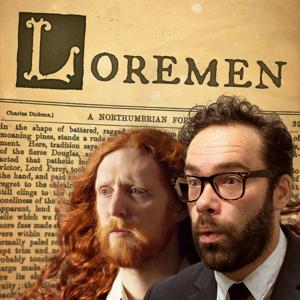 S3 Ep8: Loremen S3 Ep8 - Valentine's Special - Jenny Collier with The Mabinogion
02.13.2020 - By Loremen Podcast
Jenny Collier returns! After last year's Welsh Valentine's hilarity (pimp out of pimp across the board) we brought our favourite Welsh comedian back into the studio to give us the lowdown on an actual epic.
We cover book two of The Mabinogion (Mabinogion 2: The Legend of Curly's Gold). The Mabinogion is a 12th Century text recounting ancient Welsh myths and legends. As you can imagine, it scores highly in Naming.
Content Warnings: Two non-Welsh people doing their "best" Welsh accents, horse mutilation, references to Love Island.   
@loremenpod
www.instagram.com/loremenpod
www.facebook.com/loremenpod
@JamesShakeshaft | @MisterABK | @JenJenCollier