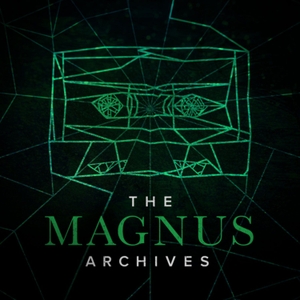 Case ########-28
Observations of surveillance
Recorded by The Archivist in Situ.
Content warnings:
- Scopophobia
- Loss of privacy
- Judgement & Shaming
- Schadenfreude
- Bystander apathy
- Therapeutic malpractice
- Body horror (inc SFX)
- Eye trauma
- Mentions of: Discussion of grief/loss, gaslighting, loss of identity, insomnia, asthma attacks
Episode Transcript
MAG 188 (PDF): https://cutt.ly/PhwoAZY
MAG 188 (DOC): https://cutt.ly/UhwoMm0
Thanks to this week's Patrons: Katie McLean, incorrigible_worksop, Sam Lueke, Delta Psy, Tired Naiad, Yael Zombie, Elizabeth Almasy, Angelika Agbayani, David Niemczyk, Harmoni Kauffman, Layne Woodward, Jacc, N, Rahlly, Michelle Scarcella, connanro, Diego Henriquez, Erica Julie Fricker apthemagician Zacharias Buchanan, Kathryn Sullivan, LYJun, Jordan Patton,Sophia Stasevic, Dominic Moffchiedoytiss, Liz McAnder, Juliana Scherzer, Jojoiter, 104 Tarsiers, Jara257, kendal, Kiwisheep, Renata, Devin Taylor, Emily Tucker, I should be asleep, melekinh, Kaley Bales, Vincent & Amelia, Emma Baker, Emily, here's how Web!Martin can still win, TheFool, Liv Stormborn, Nicole Just Kidding, Marika Rainey, Emily Diaz, Avah Willard, Anabel (latt).
If you'd like to join them visit www.patreon.com/rustyquill
Edited this week by Annie Fitch, Elizabeth Moffatt, Tessa Vroom, Brock Winstead & Alexander J Newall
Written by Jonathan Sims and directed by Alexander J Newall
Produced by Lowri Ann Davies
Performances:
- "The Archivist" - Jonathan Sims
- "Martin Blackwood" - Alexander J. Newall
Sound effects this week by 13FPanska_Cerny_Jan, 14F_NetusilovaKristyna, 14GPanskaHonc_Petr, aarom, Adam Wayne Gistarb, adamgryu, altfuture, Ambientsoundapp, avakas, bennstir, bloke09, bmusic92, bormane, Breviceps, bsmacbride, cmusounddesign, DCPoke, Deathscyp, dersuperanton, dheming, dslrguide, Emanuele_Correani, Freeman213SG, geoneo0, harilatron, hz37, ibirdfilm, InspectorJ, Islabonita, jaimage, JasonElrod, JavierZumer, joedeshon, julius_galla, Khanyi_190188, klankbeeld, kwahmah_02, kyles, LamaMakesMusic, launemax, leonelmail, leonsptvx, magedu, mars_98, martian, martinimeniscus, mitchanary, monte32, MrAuralization, nextmaking, nicktermer, nickyg11p, OnlyTheGhosts, OwlStorm, patchytherat, pcaeldries, peridactyloptrix, PeteBarry, pfranzen, phenoxyethanol, qubodup, Reitanna, RHumphries, RossBell, sangtao, semccab, Setuniman, Sheyvan, sirTmoney, smithw027, soundstack, SpliceSound, Splushionsindasky, subtletransmissions, tatianafeudal, ultradust, Uminari, v23, vandale, VlatkoBlazek, Yuval, zimbo, sketchygiot & previously credited artists via freesound.org
Additional sound effects from https://www.zapsplat.com
For more information on this weeks sponsor visit http://bit.ly/RhythmofWar
Check out our merchandise available at https://www.redbubble.com/people/RustyQuill/shop and https://www.teepublic.com/stores/rusty-quill.
You can subscribe to this podcast using your podcast software of choice, or by visiting www.rustyquill.com/subscribe
Please rate and review on your software of choice, it really helps us to spread the podcast to new listeners, so share the fear.
Join our community:
WEBSITE: rustyquill.com
FACEBOOK: facebook.com/therustyquill
TWITTER: @therustyquill
REDDIT: reddit.com/r/RustyQuill
DISCORD: https://discord.gg/KckTv8y
EMAIL: [email protected]
The Magnus Archives is a podcast distributed by Rusty Quill Ltd. and licensed under a Creative Commons Attribution Non-Commercial Sharealike 4.0 International Licence
 See acast.com/privacy for privacy and opt-out information.