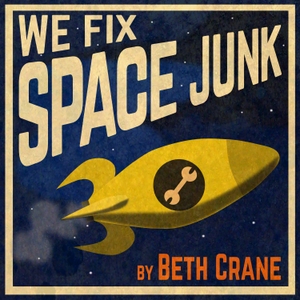 In which we catch up with Queens Flora and Daphne and the aftermath of their fight with the fraudulent killer robots.
Welcome to our second miniseries! Micro Bytes is a series of short, mostly unconnected episodes set in the Space Junk universe.
Thinking of supporting us? Maybe visit our Patreon, our Ko-fi page or just drop us some cash on paypal…
We've also got shirts and other fun bits and pieces on Spreadshirt and TeePublic as well as some awesome badges on Etsy.
Written by Beth Crane and produced by Hedley Knights for Battle Bird Productions.
Cast
Julia Schifini
Jordan Cobb
Chris Montague
Hedley Knights
Support Battle Bird Productions on Patreon!
Find We Fix Space Junk and Battlebird Productions on Facebook and Twitter!
twitter.com/WeFixSpaceJunk
twitter.com/battlebirdprod
twitter.com/Automnicon
facebook.com/WeFixSpaceJunk
facebook.com/BattleBirdProd
battlebird.productions
Want to get in touch? Email us at [email protected]!
For a full transcript of the episode and content warnings, visit battlebird.productions and click transcripts.
See Privacy Policy at https://art19.com/privacy and California Privacy Notice at https://art19.com/privacy#do-not-sell-my-info.