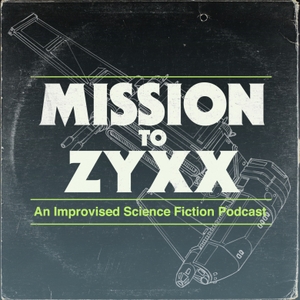 Mission To Zyxx
By Mission To Zyxx
What's Mission To Zyxx about?
MISSION TO ZYXX is an improvised science fiction podcast following a team of ambassadors as they attempt to establish diplomatic relations with planets in the remote and chaotic ZYXX QUADRANT of the TREMILLION SECTOR. They work for the benevolent and harmonious FEDERATED ALLIANCE, which has recently defeated the evil GALACTIC MONARCHY. The Federated Alliance is definitely less evil.
The Alliance's newest recruit is AMBASSADOR PLECK DECKSETTER, a naive, gung-ho farm boy whose crew includes trusty, know-it-all droid C-53, and hulking, omnisexual security officer DAR. They travel aboard the outdated, sentient starship THE BARGAREAN JADE - aka BARGIE - who has as many ex-husbands as stories about her glory days. Their mission is nominally overseen by JUNIOR MISSIONS OPERATIONS MANAGER NERMUT BUNDALOY, a striving, entry-level bureaucrat yearning for respect.