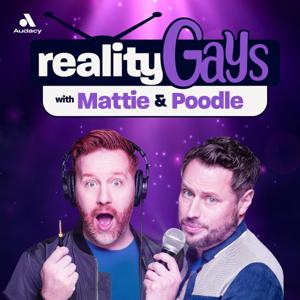 Reality Gays with Mattie and Poodle
By Matt Marr and Jake Anthony
What's Reality Gays with Mattie and Poodle about?
Jake Anthony and Matt Marr are two Southern Queens who absolutely love reality shows about lonely hearts looking for love. They recap it all including: TLC's 90 Day Fiancé, Love is Blind on Netflix, Love After Lockup, and some other shows where the people are just hot messes looking for love. If you've been looking for your gay BFFs to dish this show, you're home Queen!
Matt is a clinical psychologist, while Jake is a life coach and teacher. And they both are shady queens who are boggled at the insane ways some of these people search for love in this world. The only thing more certain than a K-1 Visa or a venereal disease is the fact that Jake and Matt will keep you laughing at these lovebirds while also judging their choices. But none of it is mean, because Jake and Matt get it. At the end of the day, aren't we all just looking for our little piece of love?
Follow us Instagram, Twitter, and Facebook. Find all things Mattie & Poodle at www.realitygays.com. Hosted on Acast. See acast.com/privacy for more information.