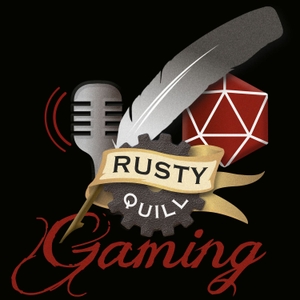 Join Alex, Helen, Bryn, Lydia, and Ben in RQG's 200th episode as they (do a super smooth intro and) fight ravenous zombies!
This week Azu calls in a favor, Hamid gets up and out, Zolf has invisibility (doesn't he!?), and Cel is shocked at their own shooting.
Content Notes:
- Physical violence
- Zombies
- Discussions of: death & injury, human remains
- Mentions of: rot, bombs, drowning, electrocution
- SFX: continuous water sounds, growling & roaring, rumbling, explosions, electricity, occasional beeps
Editing this week by Lowri Ann Davies, Tessa Vroom & Jeffrey Nils Gardner.
SFX this week by mikewest, Erdie, Bernuy, Huminaatio, maurolupo, gneube, pyro13djt, umnachtung, JavierSerrat, Perel, audiolarx, colorsCrimsonTears, magnuswalker, George_Arkin, MWLANDI, janbezouska, filipex2000, PeteBarry, and previously credited artists via Freesound.org.
As always, today's game system is available for free at d20pfsrd.com.
Check out our merchandise available at https://www.redbubble.com/people/RustyQuill/shop and https://www.teepublic.com/stores/rusty-quill.
Join our community:
WEBSITE: rustyquill.com
FACEBOOK: facebook.com/therustyquill
TWITTER: @therustyquill
REDDIT: reddit.com/r/RustyQuill
DISCORD: https://discord.gg/KckTv8y
EMAIL: [email protected]
Rusty Quill Gaming is a podcast distributed by Rusty Quill Ltd. and licensed under a Creative Commons Attribution Non-Commercial Share alike 4.0 International Licence. For information regarding your data privacy, visit acast.com/privacy.
 See acast.com/privacy for privacy and opt-out information.