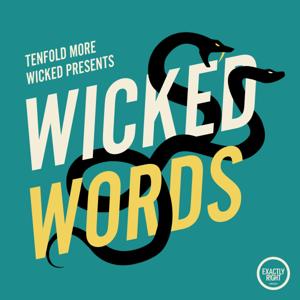 Tenfold More Wicked Presents: Wicked Words - a true crime interview podcast with Kate Winkler Dawson
By Exactly Right Media – the original true crime comedy network
What's Tenfold More Wicked Presents: Wicked Words - a true crime interview podcast with Kate Winkler Dawson about?
Tenfold More Wickeds Presents: Wicked Words is a unique blend of narrative, nonfiction, and true crime storytelling with in-depth interviewing. In each episode, host Kate Winkler Dawson interviews a journalist, writer or other professional about their best true crime cases. Explore the story behind some of history's most infamous cases. 
Now in its third season, past interviews include the filmmaker who investigated the Long Island serial killer, the forensic psychologist who spent years exploring the mind of BTK killer Dennis Rader, the author who makes a compelling case for the owl theory behind Kathleen Peterson's death and the author who later realized their beloved childhood babysitter was a serial killer. 
Tenfold More Wicked Presents: Wicked Words is part of the Exactly Right podcast network that provides a platform for bold, creative voices to bring to life provocative, entertaining and relatable stories for audiences everywhere. The Exactly Right roster of podcasts covers a variety of topics including historic true crime, comedic interviews and news, science, pop culture and more. Podcasts on the network include Buried Bones with Kate Winkler Dawson and Paul Holes, That's Messed Up: An SVU Podcast, This Podcast Will Kill You, Bananas and more.