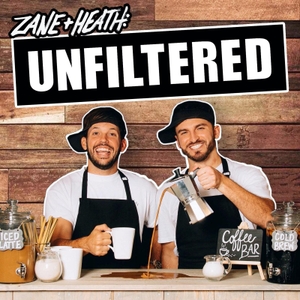 Do not attempt to adjust your picture settings, it honestly wouldn't make us look any less insane. We play dress-up in this week's loosely Halloween-themed episode of Zane + Heath: UNFILTERED! Tune in to hear the gang talk about some memorable experiences from past All Hallows' Eves. That's before we're pitted against each other in a classic game show showdown (with a spooky twist!) Those twists continue when Zane tells us a story about his awful childhood nanny! Maybe that's why Heath needs to give everyone a crash course in writing a last will and testament. I just hope we can all last long enough to hear the return of our call-in coffee talk segment! 
As the saying goes though, "where there's a will, there's a way," but there's no WAY you will forgive yourself if you miss this week's episode. And hold onto your heads, because this time next week we will have our second official guest in the Zane + Heath: UNFILTERED hot seat!
Go to hellofresh.com/unfiltered90 and use code UNFILTERED90 to get $90 OFF plus FREE SHIPPING!