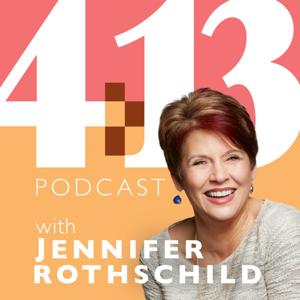 4:13 Podcast with Jennifer Rothschild
By Jennifer Rothschild
What's 4:13 Podcast with Jennifer Rothschild about?
If you are deep in the trenches of life and looking for hope-filled encouragement and practical wisdom, this podcast is for you. With her down-to-earth style, blind author Jennifer Rothschild offers practical encouragement and biblical insight to help you live the "I Can" life of Philippians 4:13 ("I can do all things through Christ who strengthens me").
Each episode, Jennifer answers real-life 4:13 questions like, "Can I overcome my fear?" or "Can I find balance?" You won't find just a cheery "Yes you can"—you will hear a confident and compassionate "Yes, you can—and here's how." You will gain the inspiration and help you need to be and do more than you feel capable of!
So, if you could use some practical encouragement, join Jennifer and her "Seeing-Eye Guy" KC for the 4:13 Podcast—it's just 2 friends, 1 topic, and 0 stress.
Podcast Website + Show Notes: 413podcast.com